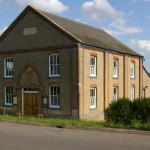 Prickwillow Baptist Church
The Chapel, situated in the Main Street, dates back to 1875 when it was officially inaugurated. It has an adjoining Sunday School building at the rear with visitor facilities. Its main interior has seating downstairs and along a surrounding balcony gallery upstairs.  Its centrepiece is a solid mahogany raised pulpit, fronted by a fully functional, sunken baptism bath. It houses its original pipe organ still in use today.
It has wheelchair access, hearing induction loop and toilet for disabled use.
Regular Sunday Service is at 10.30am taken by a team of ministers from East Cambridgeshire Baptist Association including Paul Searle, Liz Herrington, Vangelis Glasemides and Andrew Dalwood.
Next services 2019:
August- Sunday 4th (Van), 11th (Paul), 18th (Liz), 25th (Andrew)
September – Sunday 1st (Liz), 8th (Paul), 15th (Van), 22nd (Liz), 29th (Paul)
Next Committee Meeting and AGM: Friday, 8th November at 1.30pm. Members only.
Forthcoming Events
OPEN MEETING, Chapel Schoolroom, Wednesday 10th September, 7.30pm.    A discussion forum with ministers about the future use of the Church.
The Harvest Service will be held on Sunday 22nd September at 10.30am. There will be donations of produce to take away and to provide for the local Food Bank. Refreshments afterwards.
Declaration of Christian Welcome
The Baptist Chapel extends a warm welcome to anyone who would formerly have seen St. Peter's as their spiritual home and to all who live in and around the village, to join us in worship. Its regular Sunday services are supplemented by many other special services throughout the Christian calendar celebrating Easter, Gift Day, Harvest and Christmas.
We welcome inquiries for use of the chapel for infant dedications, weddings, blessings, special services and funerals from other Christian denominations. Residents wishing to have a service by a minister from St. Marys' Church of England in Ely can make use of the chapel building.
Inquiries regarding special services for Baptist or Church of England devotions can be made to the secretary, Mrs. Rita Howe on 01353 688227.
Historical Interest and Archives
The complete historical records of this chapel have been deposited within the County Archives department at Cambridgeshire County Council, Shire Hall, Cambridge. These date back to 1881 and include minutes of meetings, records of dedications, marriages, baptisms and funerals. There are also many photographs of Sunday School students and special events. They are available to view, free of charge, by appointment with the CCC.
Cambridgeshire Archives
Cambridgeshire County Council, Box RES 1009 Shire Hall Castle Hill Cambridge CB3 0AP
Telephone: 01223 699399 to arrange appointment on Tues-Thurs, 9.30am-5.00pm
The new home for Cambridgeshire Archives is now approved and alteration work on the new Ely site has begun. Both Cambridgeshire and Huntingdonshire archives will not be available temporarily from 1st December.  For  more information, please go to: –
https://www.cambridgeshire.gov.uk/residents/libraries-leisure-&-culture/archives//
St Peter's Church
The Church Commissioners and the Diocese of Ely have sold the church for residential use.