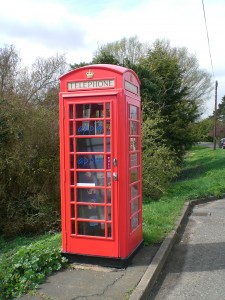 The Phonebox Gallery, Main Street, Prickwillow
This was the brainchild of villager and gallery curator Nick Edell who received enthusiastic backing from Prickwillow Village Council, back in the Autumn 2010, when the council purchased the phone box from BT for just £1 with the only restriction on the sale being that it was not moved. With no funds available for the restoration, a number of villagers stepped in to offer their services for free. Local builder Dave Simpson carried out the bulk of the work using red and black paint leftover from a refurbishment of the village hall. The door lock was fitted by Council Member Richard Raine and the box was cleaned by ex-villager, Jackie                                                                       Petts.
"We are hoping that this phone box – an iconic English space – will capture community imagination and we're already very excited about the level of enthusiasm the idea has received." The gallery has been featured in numerous print and online publications worldwide, with the news even reaching radio audiences in Canada and the US.
Speaking of the global attention the project has received so far, Mr Edell said: "It's amazing that our little telephone box has made international news. It's very surreal… but I guess that suits the project!"
The Phone Box has displayed approximately one show each month since that time and works alongside ADeC (Arts Development in East Cambridgeshire) on certain projects.  "Our aim is provide an open art space for local artists, craftspeople, galleries and school children as well as contemporary artists and photographers from further afield."
The exhibit for Christmas 2020 was from Cary Outis.
Curator – the job of selecting artists for display of their work is conducted by local resident, Coralyn Hobbs. If you are interested in displaying your work, please contact her at coralyn.hobbs@sky.com or phone 07495 954858.
 Spring 2022
Seed and seedling swap!
June 2022
Kayleigh's mystical creations – Homemade jewellery