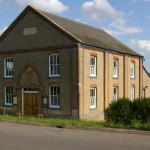 Prickwillow Baptist Church
The Chapel, situated in the Main Street, dates back to 1875 when it was officially inaugurated. It has an adjoining Sunday School building at the rear with visitor facilities. Its main interior has seating downstairs and along a surrounding balcony gallery upstairs.  Its centrepiece is a solid mahogany raised pulpit, fronted by a fully functional, sunken baptism bath. It houses its original pipe organ.
It conducted its last Christmas Carol Service and its last Sunday service in December 2019, closing its doors on 29th December.
The Baptist Union have sold the building for private use (March 2022).
Historical Interest and Archives
The complete historical records of this chapel have been deposited within the County Archives department at Cambridgeshire County Council. These date back to 1881 and include minutes of meetings, records of dedications, marriages, baptisms, funerals and accounts. There are also many photographs of Sunday School students and special events. They are available to view, free of charge, by appointment with the CCC at the Ely address.
Cambridgeshire Archives
Cambridgeshire Archives, The Dock, Ely, CB7 4GS
Appointments: 
Book in advance
Member of CARN scheme
Wheelchair access
Research Service
Proof of identity required
Readers ticket required
https://www.cambridgeshire.gov.uk/residents/libraries-leisure-culture/archives/visit-our-archives
St Peter's Church
The Church Commissioners and the Diocese of Ely have sold the church for residential use.